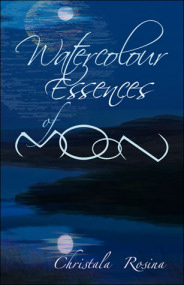 Watercolour Essences of Moon comprises over fifty of Christala Rosina's beautiful, thought-provoking and inspiring poems. Published by PublishAmerica (2006), ISBN 1-4241-0940-X.

Watercolour Essences of Moon can be ordered:

- at any bookstore

- from www.Amazon.co.uk

- from www.PublishAmerica.com


Promotional Appearances - an Author with a Difference

Bookshops can provide very suitable settings for poetry-concerts in which Christala performs selections from Watercolour Essences of Moon, and most have the added versatility of being able to offer lunchtime or teatime appearances as well as evening ones. If you, too, feel inspired by writings that seek the truth, please help Watercolour Essences of Moon to reach a wider audience by asking your local bookshop to stock it and/or host an appearance by Christala.